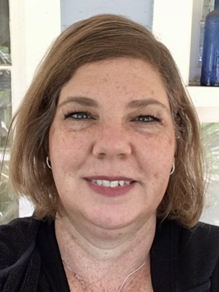 Therese Accinelli, LMFT
Therese Accinelli is a Licensed Marriage and Family Therapist with over 20 years of clinical experience working with children, families, and adults.  Therese has specialized training in working with early childhood and parent-child relationships.  Therese incorporates cognitive behavioral therapy, along with family systems approaches, social learning, relationship attachment and interpersonal psychotherapy to provide treatment. 
She helps promote healthy caregiver-child relationships to reduce difficult behaviors through the use of positive communication, supporting self-regulation, coping skills, and teaching effective behavior management strategies.
Areas of Expertise
Therese specializes in Cognitive Behavioral Therapy (CBT) and family systems approaches to support individuals who are requesting additional support with parenting, life adjustments, anxiety, depression, bereavement, trauma, neurodiversity (autism spectrum, ADHD, sensory-motor), low self-esteem, and body image. Therese has specialized training in early childhood, latency age, and adolescent psychotherapy.  However, she enjoys working with clients of all ages.
Experience and Training
Therese specializes in Cognitive Behavioral Therapy (CBT) and family system approaches.  Therese is certified in the following evidenced based practices: Parent-Child Interaction Therapy (PCIT) for children ages 2-8 years; Managing and Adapting Practices (MAP) for children 3-21 years; Families Overcoming under Stress (FOCUS) for all ages; Interpersonal Psychotherapy (IPT) for ages 12 years and up; and several other trauma informed models. She is a certified instructor who provides training and consultation in PCIT, MAP, and FOCUS to other professionals in the field. 
Therese is a post graduate fellow with specialization in Early Childhood from the Department of Mental Health + UCLA.  She has 15+ years as a clinical supervisor and trainer working in an outpatient children's mental health clinic.  Therese is the author of My Lifebook Journal: A Workbook That Helps Kids Adjust to Foster Care. (Oakland, CA: New Harbinger Publications, 2008).